The varied landscape of Saint Lucia provides the perfect backdrop for adventure.
Climb the celebrated Piton Mountains, zip through rainforests on a canopy tour, or explore an underwater world with snuba and scuba diving. From dive adventures and cultural tours, to eco tours and hiking excursions, St. Lucia offers adventures and pursuits to fit any voyager's whim.
With so much to do and see on this Simply Beautiful island, it's hard to narrow down your options, but there are some adventures that just can't be missed.

Explore St. Lucia on Horseback
Horseback riding excursions on St. Lucia typically begin with a horseback ride through a tropical rainforest and sometimes along a steep cliff so riders can take in the panoramic vistas of the St. Lucia coastline. Riders can eventually trot through the warm waters of the Caribbean on horseback!
Hike the Famed Pitons
The majestic peak of Gros Piton, along with its twin peak Petit Piton, dominates the western coast of St. Lucia, towering nearly 3,000 feet above sea level. Hike through the lush green slopes of these pyramid-shaped icons for the ultimate reward: grand views from the top. Swimming and lunch are included on most Piton hiking tours.

Visit an Ancient Town
Soufrière, the ancient capital of St. Lucia, is bursting with adventure, offering botanical gardens, therapeutic mineral baths built by Napoleon, views of the Pitons, a drive-through volcano, and more. Grab a bite to eat at  the only working water mill in the Caribbean.
Gaze at the Sunset While at Sea
Sail off into the sunset on a boat or catamaran cruise that features stunning views of the Pitons and St. Lucia's breathtaking seashore. Enjoy appetizers, cocktails, and music on most at-sea tours.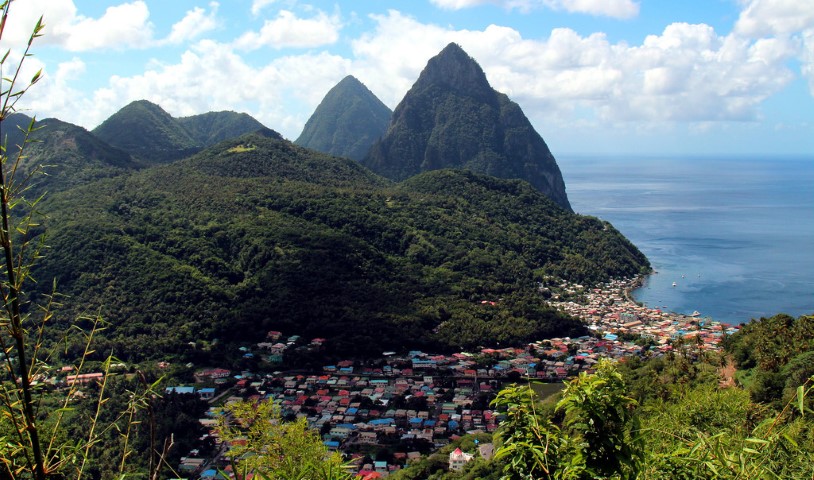 To experience a softer side of adventure, visit an historic cacao estate and handpick ripened cacao pods. Scoop out the beans to be roasted and watch as they are turned into fine bars of chocolate. A gourmet lunch infused with cacao treats is available at the estate.
Canopy adventures are abundant on St. Lucia. Experience an exhilarating ride through the lush jungle on a zipline, a system of integrated cables and rigging designed for maximum thrill and exposure for the best views of the rainforest and St. Lucia. Trained guides are on-hand to lead the way.