Minutes away from the insanity that is Las Vegas Boulevard, the Hard Rock Hotel is the ultimate hipster hangout.
'When this house is rocking, don't bother knocking…come on in', is written over the entrance. Built by Peter Morton, who founded the Hard Rock Café chain, the decor is post-modern funky, very downtown.
The pool area is called the Beach Club and has an authentic sandy beach, swim-up bar and casino, underwater music and private cabañas where you can watch TV, make a phone call, grab a cool drink from your personal fridge, and get misted with a cool spray that goes off automatically every 15 mintues or so, right in your cabaña.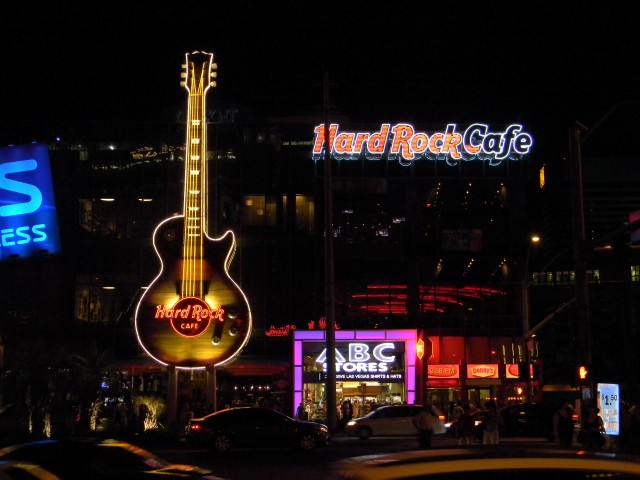 The hotel hosts two of the city's trendiest venues: The Joint, a live concert club where you can catch everyone from Erykah Badu to Los Lobos to — if you're superlucky — the Rolling Stones; and Baby's Nightclub, a groovy DJ dance scene. Nobu, the famous Japanese restaurant with branches in New York, London and Los Angeles, recently opened here, and there's also the Pink Taco for those who fancy suggestive Mexican. Even if you don't stay at the Hard Rock, it's worth a trip to this very cool spot.
Rooms & Suites: 698
Restaurants
Nobu: World-renowned temple of Japanese cuisine with Peruvian influences
The Pink Taco: Authentic Mexican with a fresh and juicy taste
A.J.'s Steakhouse and Piano Bar: A cool and swanky nod to classic Vegas steakhouses
Mortoni's: A casual and elegant spin on the star-filled LA phenomenon, Morton's
The Counter: A 24-hour, all-counter café in honour of Peter Morton's own favourite Beverly Hills hangout
Mr. Lucky's 24/7: 24-hour casual dining
Palalpa Bar & Grill: Poolside drinks and snacks
Attractions
The Joint
Baby's Nightclub
RockSpa