The first time we see male Great Frigate birds puffing out their bright red chests, all I can think of is tomato-flavoured bubble gum.
Our little group of tourists has run smack into mating season on Tower Island in the Galapagos, which means that every time a female flies overhead to check out the merchandise, the place turns into the bird version of a construction site. Hopeful, horny males peer up from their scruffy salt bush nests, inflate the pouches on their chests, flap their wings madly, and cry "Boobleybloobletybloow" (frigatese for, "Hey, babe! Over here! Over HERE!")
Most of the time, the picky females just keep going. But soon there's another potential customer winging her way above, and out go the chests again — balloon-like, glistening, huge (size matters, according to our guide)…and like so many things in the Galapagos, jaw-droppingly strange.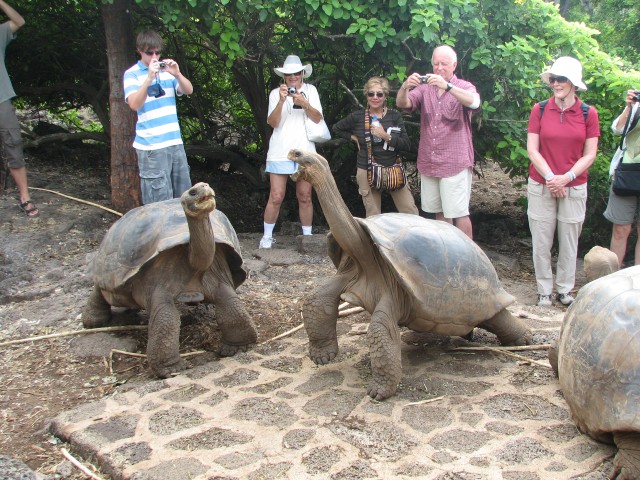 A holiday in the Galapagos will probably be one of the priciest you've ever taken, and even if your base were a luxury yacht, it wouldn't be one of the cushiest. On any given day, you'll have to clamber in and out of rubber boats, across petrified lava, and over lounging marine iguanas. The islands, 600 miles off the coast of Ecuador, feel like the ends of the earth. This, of course, is the point.
Many expeditions to the Galapagos start or end with the opportunity to get your urban fix in Quito. High in the Andes, surrounded by snow-capped volcanoes, it has a modern new town that's reminiscent of Miami, with all the yuppie amenities from ATMs to vegetarian restaurants. Quito's old town — a UNESCO world heritage site — is a colonial dream of ornate churches, cobbled streets, and pastel houses with iron balconies. Just outside the city is the Mitad del Mundo – Middle of the World – where you can stand with one foot in each hemisphere. Quito is also the place to do your shopping. Andean textiles are especially a bargain: Make sure to pick up a few traditional loose-fitting cream-coloured cotton shirts as gifts (or to wear yourself under the Equatorial sun.)
The islands are actually a national park, with strict — and essential — rules about where tourists can go and when. Everyone's seen pictures of the blue-footed boobies waddling right up to the tourists, knowing no fear. You can also swim with penguins and wade into flamingo ponds (yes, the Galapagos has both). You can stand eyeball to eyeball with a giant tortoise who's a dead-ringer for E.T., and hike to a cliff high above the ocean where
squadrons of albatross come in for a landing, right at your feet. But you soon realise that despite all the Kodak moments, the Galapagos is more than just another pretty place. Still mostly uninhabited by humans, it is a scientific laboratory dedicated to the study of evolution – and has been, since Charles Darwin's famous voyage there in 1835. To this day, the Galapagos has the highest proportion of endemic species — those that are found nowhere else — than any place in the world.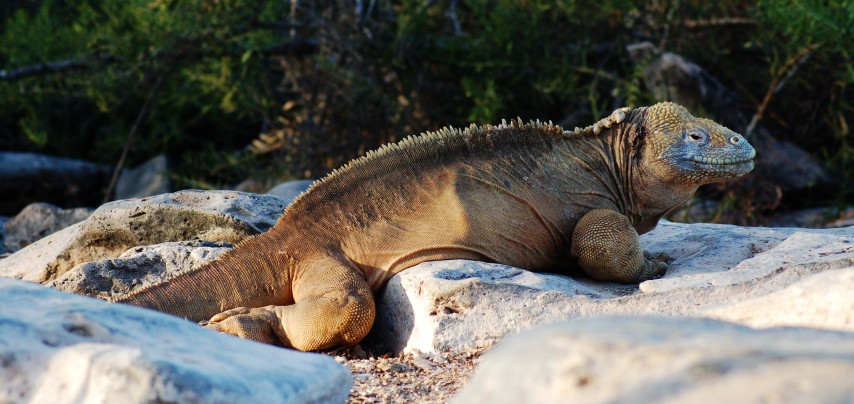 Except for eco-tragedies caused by humans, no effort is made by modern scientists to reverse the evolution that's happening all the time in the Galapagos. Sometimes this laissez-faire approach translates into massive die-offs of species that simply can't adapt to the changing weather or food supply. The survival of the fittest within a species isn't always warm 'n fuzzy, either. For instance, every one of those adorable blue-footed boobies is a vicious killer. To insure the survival of the species, the booby parents lay two eggs. But one is just an insurance policy. Unless it's a very good year, the sibs duke it out, and the weaker one gets kicked out of the nest to starve. Faced with all this nature red in tooth and claw, you may find yourself asking cosmic questions: "Why are we here? How did we get here? If my sister had been a blue-footed booby…."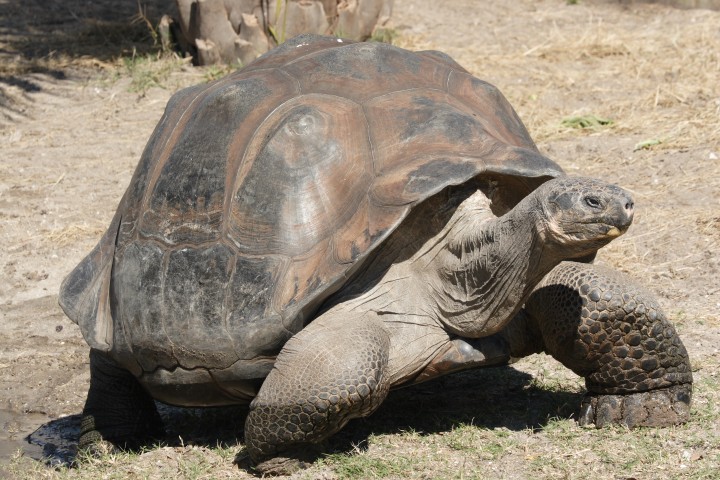 But in the end, it's the beauty of nature in the Galapagos that stays with you, not the cruelty. One afternoon when our group was snorkelling off North Plaza Island, a colony of sea lions dived off the rocks above and, with much crashing and splashing, barrelled right into the water with us. They got startlingly close, zooming right past us like big furry underwater liverwursts. Suddenly our guide flipped upside down in the water and did a kind of headstand on the coral bottom. Immediately one of the sea lions did the same. Then another. And another. Who knew they had what evolved humans would call a sense of humour?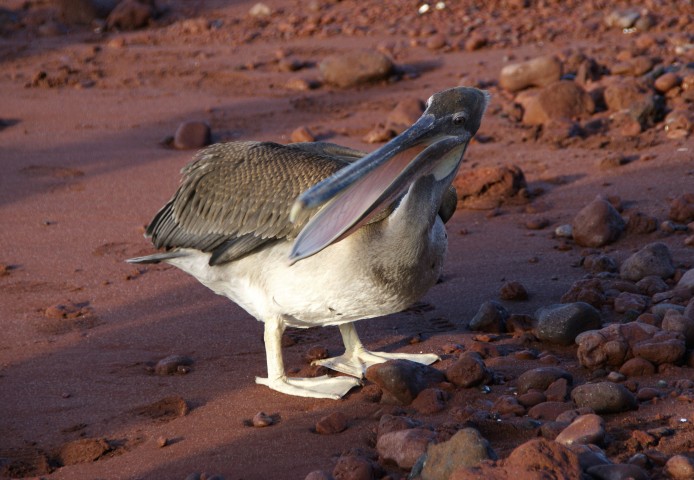 Soon all the animals — and all of the people — were leaping about joyfully. They honked; we laughed. We had become interspecies dancers. My snorkel choked up, and it wasn't just because of the waves.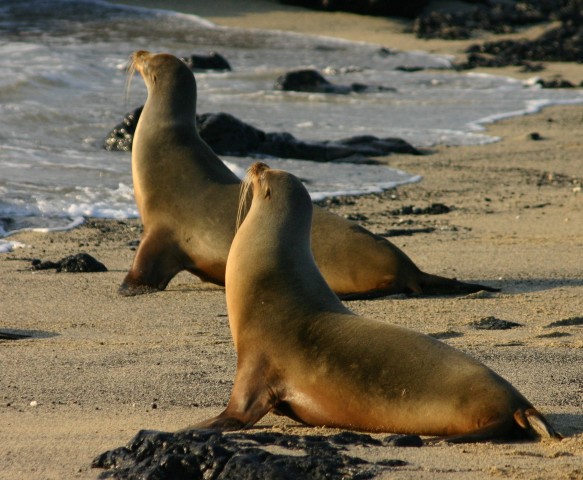 PRACTICALITIES:
You'll appreciate the Galapagos more if you do some homework. Two must-reads are "Beak of the Finch", Jonathan Weiner's Pulitzer-Prize-winning account of modern evolutionary research in the Galapagos," and Darwin's memoir, "The Voyage of the Beagle."
All Galapagos visitors become major shoe fetishists, especially if they've brought the wrong footwear. Wet landings on rocky beaches require Tevas, waterproof Nikes, or some other sturdy lightweight wader. You'll also need hiking shoes with Vibram-type soles for slippery volcanic terrain. You're required to hose off your shoes and leave them on deck every time you re-board your ship (a precaution to keep microscopic bugs and seeds from being carried from one island to another). Thus you'll also need slippers or other indoor tootsie-wear.
Other useful items include light cottons and quick-drying fabrics, an extra swimsuit, sunscreen, mosquito repellent and lots of film. But the most crucial packing tip is to bring a hat. A dorky one with a big brim, not a trendy one or a baseball cap. Remember, you'll be hanging out underneath thousands of birds.