Larnaca
The majority of travellers to Cyprus arrive at the country's major international airport in Larnaca. Most are sped eastwards in air-conditioned coaches to the bright lights and beaches of Ayia Napa and Protaras, but those who choose to linger in Larnaca will find a bright and breezy town with some excellent waterside dining on the Finikoundes, Larnaca's long, palm tree-lined promenade.
While Larnaca's beaches are not the best on the island, the town itself is a pleasant place to visit if you prefer a quieter scene – a relaxed meal, casual strolling, or even just a book and a beer near the water – as opposed to the frenetic club-and-bar scene to the east.
Ayia Napa
Ayia Napa is where the action is. This is the place of the non-stop party – fun, festivity, sun, sea and whatever-you-can-imagine activity – that exults itself in a riotous orgy of colour, noise, confusion and things happening by the moment. Named in honour of the cloth that Saint Veronica used to wipe the brow of Jesus before he was crucified on Calvary, Ayia Napa today belies its religious origins. While the monastery still exists, religious ritual has given way to ritualised fun, as scores of young and a few not-so-young descend on Ayia Napa from April to November for holidays in the party hotspot on Cyprus.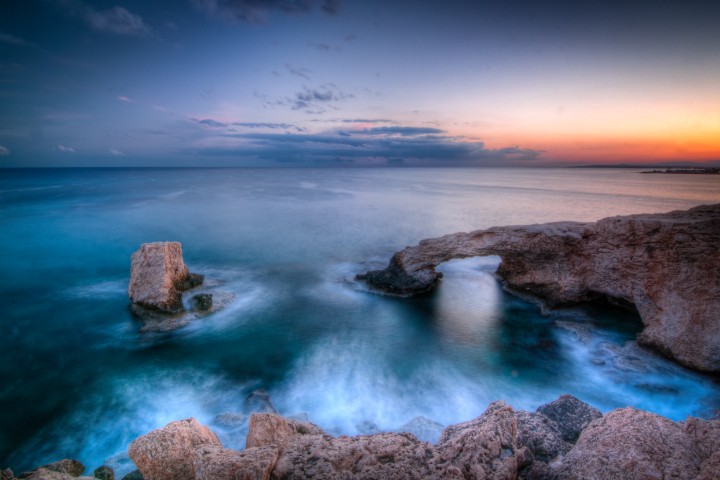 Ayia Napa is bars and night clubs – more than 20 of them that rock on until dawn. Chronic nightaholics can chill out at the aptly named Insomnia Club and watch the sun rise to announce yet another day of relaxation and fun. An assortment of exceptionally good restaurants can be found here too. Try afelia (thick, spicy sausages), ofto (succulent, oven-roasted lamb), or the ever-popular mousakas (scrumptious layers of minced meat, potatoes and aubergines topped by bechamel sauce).
Ayia Napa also means beach – long stretches of clear blue water and soft white sands, with excellent opportunities for snorkelling and diving – though in the height of summer you may find elbow room a little short on supply.
There's gut-wrenching fun to be had at WaterWorld, one of the biggest theme parks in the Eastern Mediterranean. Don't miss the thrill of your life on the Slingshot, touted as the highest and fastest ride in the world, shooting you up 100 metres in 1.3 seconds. Or fly like Superman on the Skycoaster, the largest swing on the island.
Protaras
If the dizzy pace of Ayia Napa is not quite your cuppa PG Tips, Protaras is the place for you. Spread out over a long rocky coastline indented with little sandy bays, Protaras is an imperceptible series of beachside communities running from near Famagusta in the north to Cape Greco in the south. This is a great place for a family holiday – ideal for unwinding by the beach or pool, or enjoying water sports, relaxed coastal walks or lingering cocktails – with enough room to feel that you have come to your own particular spot of Cyprus.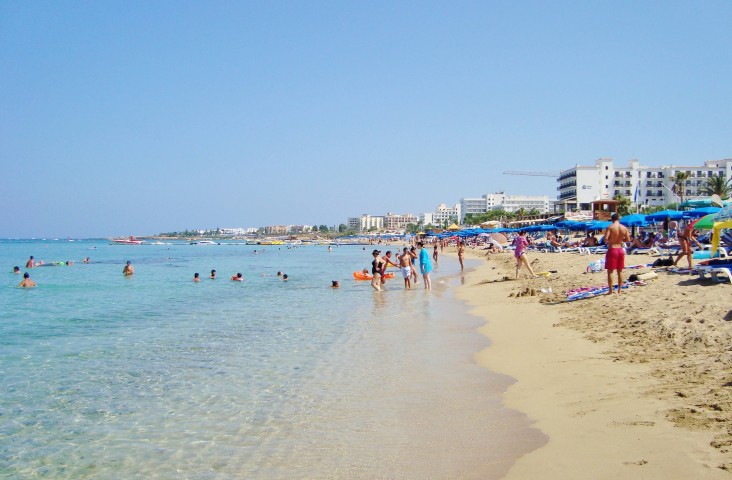 Geared largely to the packaged tourism market, Protaras does what it sets out to do very well. Manicured lawns, sparkling hotels, Gucci and Yves St. Laurent boutiques and other shops stud the central stretch of Protaras village, while Honda scooters fritter by, ridden by bronzed, bare-backed youths in search of ever-new stretches of beach to take cooling dips in Cyprus's most alluring expanse of sea.
Running from the northern end of the strip, the beaches of Ayia Triada, Mouzoura, Louma, Protaras, Green Bay and Konnos offer excellent swimming as well as ideal spots for lingering meals overlooking the sea. Those seeking just that extra dose of isolation might head for the rocky ledges on the northern side of Cape Greco.
Only 10 minutes from Ayia Napa, Protaras is perfect for those who want nightlife without sacrificing a good night's sleep.
Limassol
Limassol has a reputation as the city that never sleeps. The site of Cyprus's main port, it is the country's commercial and economic hub. Fuelled by an abundant inflow of investment capital and a ready supply of tourists from all over Europe, Limassol is brash, bold and busy. A thriving tourist strip runs 12 kilometres northwards from the city centre in a frenzied frieze of hotels, bars and restaurants that never seems to end.

sail-boarding Limassol style Limassol will appeal to those who like their entertainment in big doses and their food in ample-sized portions. Beyond the gloss and glamour, Limassol is still a city with soul. Its Old City is experiencing a creeping gentrification and little bars and restaurants appealing to the more eclectic among us are popping up like mushrooms in a dark cellar.
Richard the Lionheart must have liked Limassol. It was here that he decided to claim Cyprus as a British possession for the first time, and it was on the site of Limassol's picturesque medieval fort that he married Princess Berengaria of Navarre and made her Queen of England.
Limassol is an excellent base for the classical Greek and Roman archaeological sites of the south and the beaches of the Akrotiri Peninsula and the quieter resorts further west.
Paphos
While Limassol is brash and Larnaca demure, user-friendly Paphos is one of Cyprus's most liveable cities, and a growing favourite holiday centre for those seeking an alternative to the faster-paced resorts of the east. Paphos is one of the few cities that conveniently combine culture, cuisine and climate in one easily digestible package.

Split between Ano (Upper) and Kato (Lower) Paphos, the city offers the best of urban city living and Mediterranean beach life with its palm-lined boulevards, an extensive archaeological park with stunning Roman mosaics, and a haunting necropolis just north of the city: the grandly titled 'Tombs of the Kings'. Hotels and beaches extend both north and south of the city and, while all hotels boast pools and full facilities, many of them sport secluded private beaches as well.
Paphos was the capital of Cyprus in ancient times, and is an ideal base for touring the rustic villages along the wild and sweeping Akamas Peninsula – with their abundant grapevines and timeless pace of life – as well as the hinterland villages of the vast Paphos pine forest.
Paphos is a comfortable and easy-going holiday destination.
Hike the Troödos Mountains
Cyprus is great for sun and beaches, there's no question of that, but if you're looking for something different, head up into the mountains and take a walk. There is no better place to do that in Cyprus than in the Troödos Mountains, the brooding hulk of highlands that dominates the landscape of south western Cyprus. It is an ideal place to escape from the heat and hype of the coast.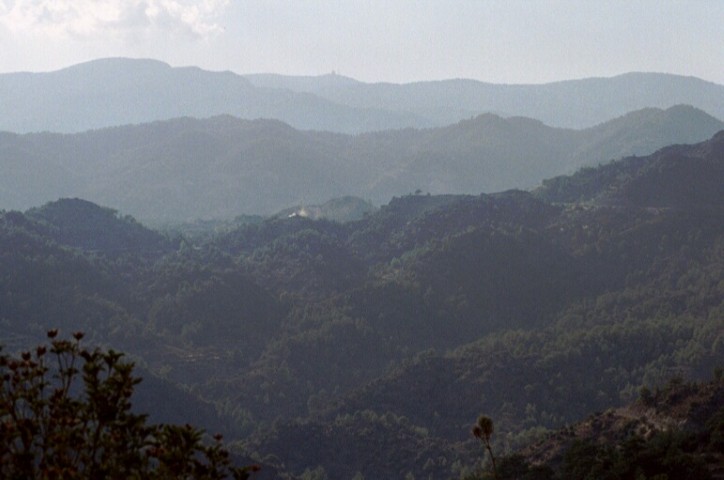 Here you can stroll in cool forests of pine, cedar and golden oak trees, enjoy panoramic vistas over the Mesaoria plain stretching to the sea, or look for the rare and endangered Troödos Anatolian orchid, one of many such indigenous flowers that grow only in Cyprus. Afterwards, partake in an icy gin-and-tonic at a local hotel or cafe as the sun sets in a glorious splash of red and gold across the Paphos forest to the west.
From the tiny resort village of Troödos, with its rustic hotels and pine-scented air, there are four well-marked hiking trials that you can take at your leisure. The best and most scenic is the Artemis Trail, a circular loop that circumnavigates the summit of Mt. Olympus, Cyprus's highest mountain. This easy three-hour stroll takes you through cool pine forests and open areas with magnificent views across the whole of Cyprus from Morfou Bay in the North to the Akrotiri Peninsula in the South.
The Atalanti Trail is similar but longer and at a lower altitude. The Persephone Trail takes hikers to a scenic lookout at the end of a three-kilometer hike through woods and along mountain ridge tops, while the Caledonia Trail leads you along the Kryos stream to a fresh and welcoming waterfall.