Named after one of the prettiest villages in Italy, the Bellagio is nestled on the artificial shore of eight-acre 'Lake Como', which is nestled right up against the car exhaust of the Strip.
Opened in 1998 by casino baron Steve Wynn, the Bellagio takes romantic Tuscan architecture and blows it up to the most obscene proportions. Can a hotel the size of Italy itself be romantic? Only in Vegas, baby. Every 30 minutes or so, the lake comes alive as the Fountains of Bellagio shoot streams of water 250 feet into the air. The water 'dances' to music and lights, swaying like a colossal garden sprinkler gone berserk.

Bellagio prides itself on two things: magnificent art and magnificent food. The lobby, which leads into the conservatory flower garden, is stocked with fragrant flowering plants and trees that change with the seasons. The ceiling displays a truly spectacular handblown glassflower sculpture by Dale Chihuly called Fiori di Como, and several original Rauchenbergs hang on the walls. Masterpieces are scattered throughout the hotel, from the Bellagio Gallery of Fine Art where, for a price, you can see genuine Cézannes, Gauguins, and Monets, to the $$$$ restaurant Picasso, where 16 of Pablo's works are on display.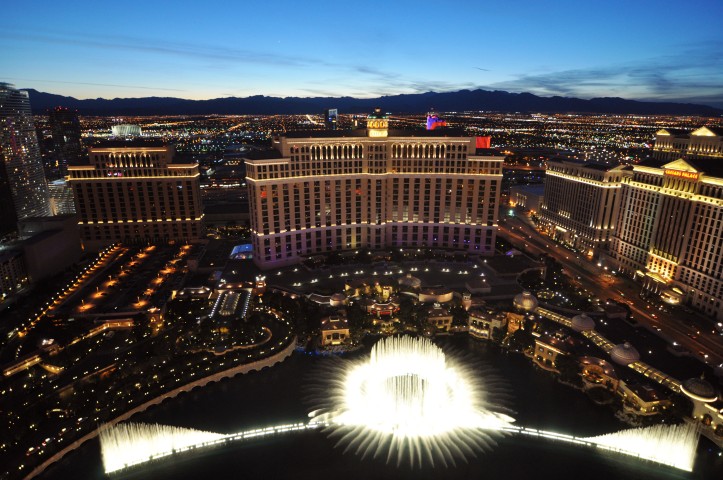 Bellagio has arguably the finest restaurants in all of Vegas, headed by America's most celebrated chefs. (The only exception is Cafe Bellagio, where this reviewer had possibly the worst meal of her life.) And if you only see one show on your visit, make it Cirque du Soleil's 'O', a psychedelic assemblage of acrobats performing on a stage made of water.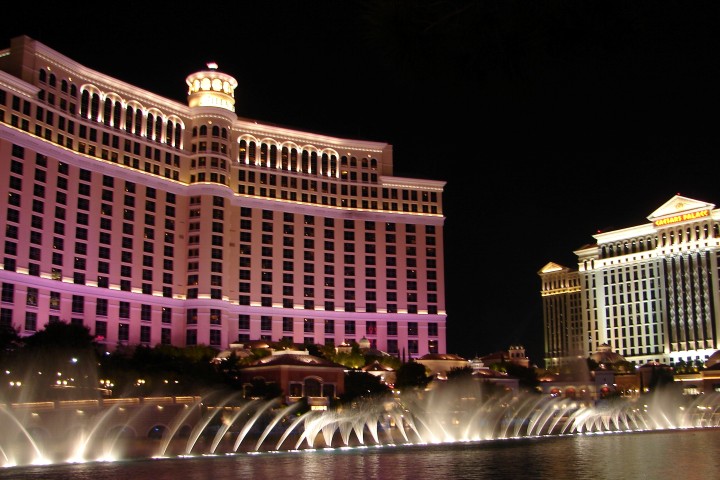 Rooms & Suites: 2465
Restaurants & Bars
Picasso: Outstanding regional French and Spanish cuisine
Le Cirque: Haute cuisine, world-class wines and luxurious service, just like the New York original
Osteria del Circo: Home-style Tuscan food inspired by the popular Egidiana Maccioni
Jasmine: Contemporary Chinese with subtle European influences
Noodles: Tony Chi's design brings the traditional noodle kitchens of Asia to Vegas
Sam's American: Traditional American in an open-kitchen 'theatre' setting
Cafe Bellagio: Turn-of-the-century windows decorate this breakfast, lunch and dinner eatery
Aqua: Second home of this four-star California seafood favourite
Olives: Renowned casual Mediterranean restaurant from Boston
Prime Steakhouse: Promises to bring steakhouse dining to new heights
Shintaro: Teppan yaki, sushi, and multi-course Pacific Rim delights
The Petrossian Bar: Afternoon tea, caviar, champagne, smoked salmon, and much more
La Brea Bakery: The irresistible art of fine bread and pastry
Buffet at Bellagio: Fine international spread
Attractions
Fountain Show
Bellagio Gallery of Fine Art: Cézanne, Degas, Gauguin, Picasso, and more
Cirque du Soleil's 'O' at the Bellagio Theater
Shopping
Armani
Chanel
Prada
Tiffany
Moschino
Hermes
Gucci
Yves St. Laurent