When it opened in 1966 (across from mobster Bugsy Siegel's Flamingo Hotel), Caesar's was the place to be.
Today, however, all the Roman Empire opulence — phoney marble busts, horn-blowing statues perched on Doric columns, cocktail waitresses in mini-togas with clip-on ponytails — seems dated. Caesar's has tried keeping up with the Joneses and over the years has tacky-ed on several disparate, ugly additions and connected them all with enclosed moving walkways, which creates the feel of a gigantic hamster habitat. Enter and you may never find an exit. But when in Rome…

Gorge yourself at Bacchanal, a two-hour feast featuring all the wine you can drink, a shoulder rub from a wine god/goddess, belly dancers, and an audience with Caesar and Cleopatra. (Vomitorium not included.) Catch Tony Bennett or another big-name act at Circus Maximus.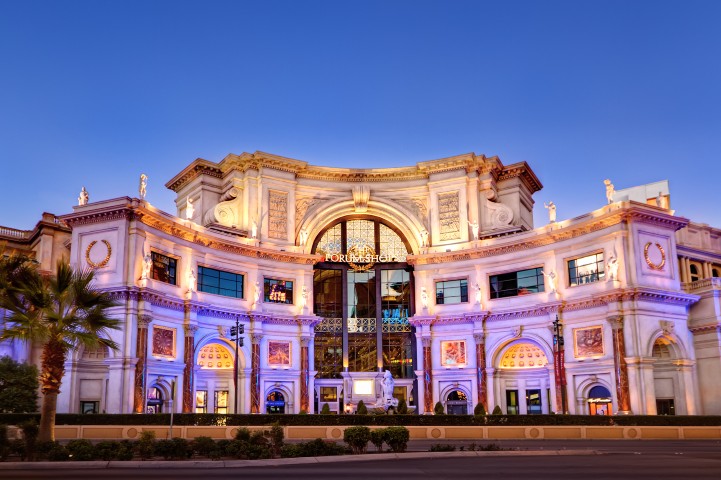 Experience Caesar's Magical Empire, a four-course dinner/magic show that takes place in an underground labyrinth. Swim through the Garden of the Gods. Shop at Versace. Check out a 3D movie about Mount Everest. Render unto Caesar the things which are Caesar's.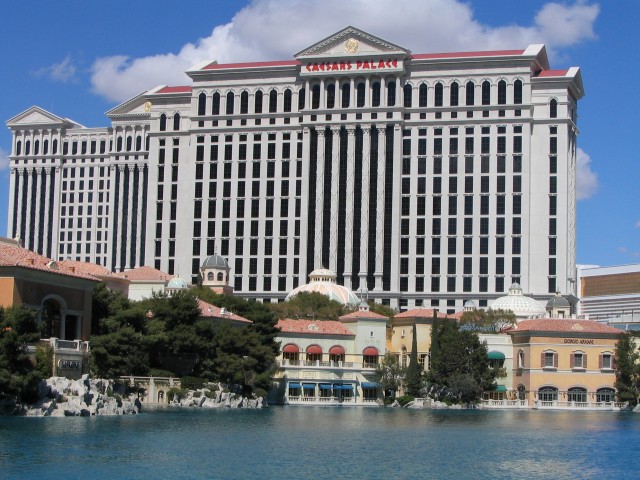 Rooms & Suites: More than 2400
Restaurants
Bacchanal: Six-course prix-fixe medley of continental cuisine
Caesar's Magical Empire: Dining and magic acts in an elaborate, Roman environment
Hyakumi Restaurant and Sushi Bar: Japanese favourites in a serene and plush garden
Palace Court: Impeccable à la carte French cuisine, featuring classic dishes and cutting-edge creations
Empress Court: Hong Kong-style cuisine, overlooking the Garden of the Gods
Nero's: Prime steaks aged to perfection, and fresh seafood flown in daily
Terrazza: Country rustic Italian cuisine
Cafe Roma: Eclectic, New York-style eatery open 24 hours and overlooking the Palace Casino
Palatium: The most sumptuous buffet in the Empire
La Piazza: Lively food court with nearly a dozen options
Shows & Attractions
Shadow Lounge: Features provocative dancers behind a sheer scrim screen
Circus Maximus: New and classic entertainers
Cleopatra's Barge: Bar that looks like a ship
Smokey Joe's Cafe: See Gladys Knight & The Pips
Omnimax Theater: Movies in 3D
Race for Atlantis: 3D motion simulator ride
Spa & Health Club: includes a rock climbing wall
Wedding Chapel: Nuptials in the Neptune Chapel
The Forum Shops: More than 70 premier retailers and restaurateurs