'Fire the laser!'
That is the order given every night in the pointy room atop the giant black Luxor pyramid just as the world's brightest beam of light gets switched on and shoots straight up to the heavens — or so it's easy to imagine, anyway.
Luxor is many people's favourite hotel in Vegas, with its sleek, black lines and tiny white chaser lights outlining its pyramid shape in the dark; the giant sphinx entrance and the larger-than-life replica of Cleopatra's Needle; the blues and browns of the hieroglyphic-crazy interior and the slanted windows inside the Pyramid hotel rooms. In a bizarre way, the Ancient Egypt theme fits in well with the slice of Mojave desert the Luxor is built on: the sand, the UFO sightings, the mysticism, the wealth. Cairo, Vegas. Closer than you'd think.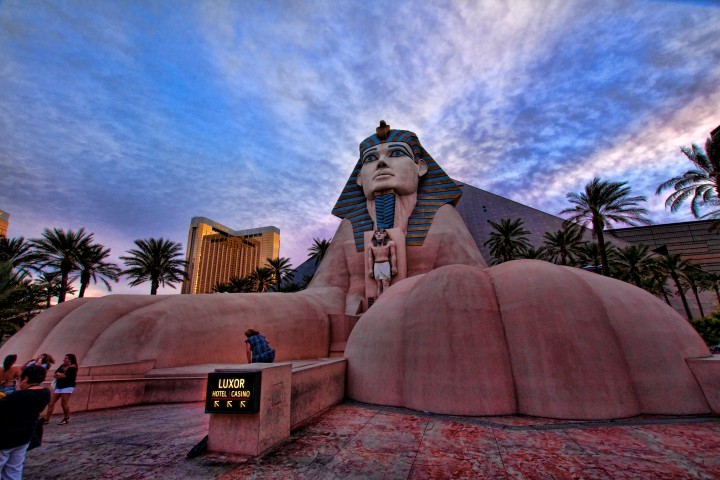 Luxor houses the extremely popular RA Nightclub, featuring a fabulous sushi bar and different club events Wednesday through Sunday. In Pharaoh's Theatre, you'll find the topless showgirl revue 'Midnight Fantasy', and — here's a real anachronism — a guy who does Liberace impressions.
Recently opened in the Luxor Theatre is the supercool Blue Man Group, who've been playing in New York City to wide acclaim for years. Their funny, messy, thought-provoking interactive performance is a must-see. One more interesting bit: The Oasis pool is open 24 hours — a Vegas first — so you can dive in anytime.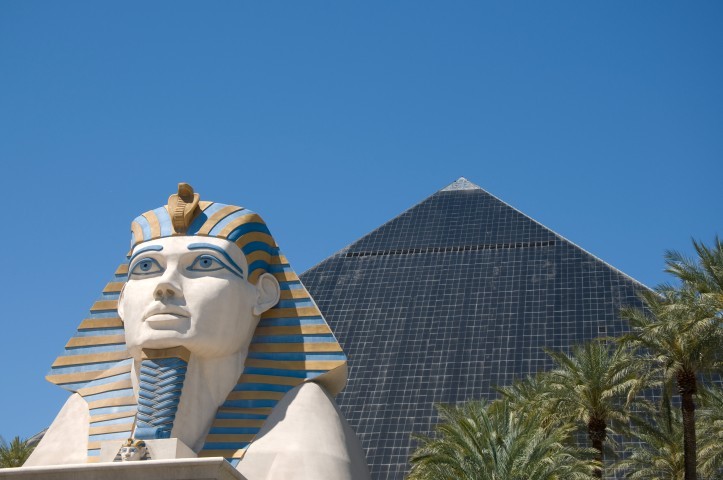 Rooms & Suites: 4400
Restaurants
Isis: Pass through an intimate colonnade lined with Carytid statues and into one of the finest gourmet restaurants in the U.S.
Luxor's Steakhouse: The cherrywood bar and walls provide a classic meat-and-potatoes setting
The Sacred Sea Room: Journey down the Nile for delicious fresh seafood
Papyrus: Fine Asian cuisine – Szechwan, Cantonese and Mandarin
Pyramid Café and Pharaoh's Pheast Buffet: Egyptian-theme favourites
Rides & Attractions
Luxor IMAX theatre: 3D movies from around the world
In Search of the Obelisk: Virtual reality adventure through an archaeological dig
Games of the Gods: High-tech, high-priced arcade
The Tomb and Museum of King Tutankhamen: Replica of the tomb discovered in 1922
Blue Man Group
Midnight Fantasy
RA nightclub
Shopping