At the very southern end of 'the Strip', just beyond the sign that reads 'Welcome to Fabulous Las Vegas', Mandalay Bay rises from the desert floor like a shimmering wall of gold.
One of the newer luxury theme hotels, its tropical landscaping and flame-lit Valley of Waterfalls transports you to…somewhere on the coast of Myanmar?
Upon arrival, attendants in pith helmets and khakis help carry your bags up to, perhaps, your Standard Deluxe room done up jungleflower/leopardskin-style. When the sun is up, you'll want to head to Mandalay Beach. With a genuine sandy shore and a wave pool that creates swells up to six feet, Mandalay Beach is as close to the real thing as you'll get in the desert.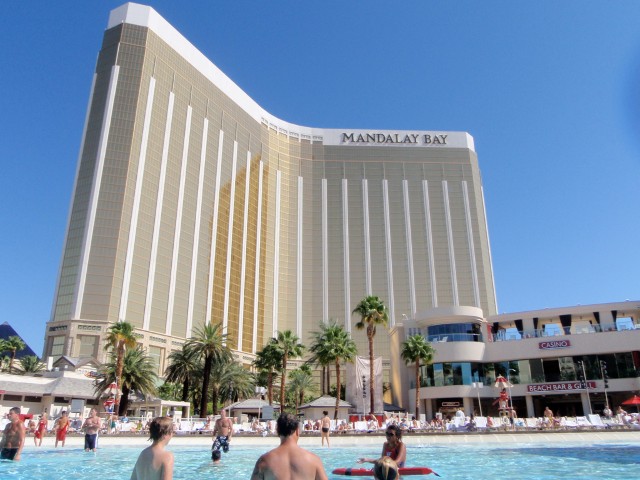 When the sun sets, it's time for the House of Blues, one of America's most famous rock and roll clubs. House of Blues Restaurant serves Southern favourites like jumbalaya and etoufee, while the Concert Hall showcases the hottest live music from Bob Dylan to Sheryl Crow to Alanis Morrisette. (In fact, all 99 guest rooms on the 34th floor are decorated in funky 'Blues' style.)
Other cool spots include the postcommie-chic Red Square, with its frozen ice bar and extensive vodka selection, and Aureole, an amazing 4-star restaurant that features the world's only four-storey wine tower. Human 'wine angels' are hoisted up by pulley to grab your selection from this 'cellar in the sky.'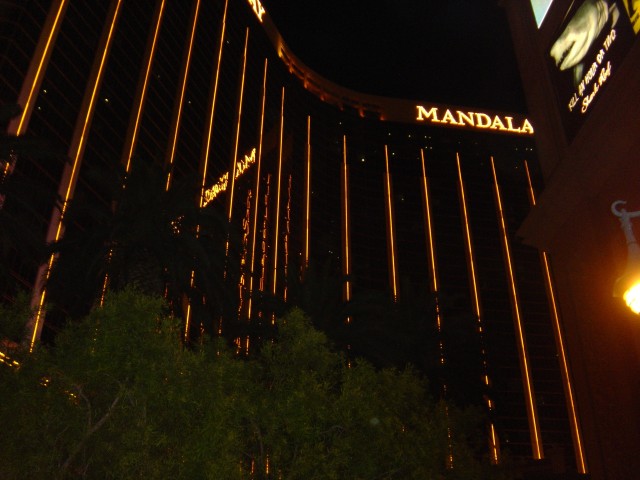 Rooms & Suites: 3646, including 424 accommodations managed by the Four Seasons
Restaurants & Nightclubs
Aureole: Replica of chef Charlie Palmer's renowned New York restaurant
Wolfgang Puck's Trattoria del Lupo: Another Italian masterpiece by the legendary Puck
Shanghai Lilly: Classical Cantonese cuisine with Szechwan specialities
China Grill: Vegas version of trendy New York and Miami 'world cuisine' scene
Border Grill: Modern Mexican grub with a view of Mandalay Beach
Rock Lobster: Check out the conveyor-belt bar in this crustacean lover's paradise
rumjungle: A dancing firewall and volcanic mountains of rum and spirits entertain, as does the tropically-inspired menu
House of Blues: Creole and Cajun staples accompany deep-South faves
Red Square: An extensive caviar list meets an extensive selection of international cuisine
Attractions
House of Blues
Mandalay Bay Events Center: Boxing, Broadway shows, Placido Domingo
Spa Mandalay: Massage + aromatherapy + thalassotherapy = full relaxation
Chapel by the Bay: Get married on your own 'private island'
Treasures of Mandalay Bay: a $40 million museum collection of rare gold and silver nuggets
Storm Theatre: Nightly music, comedy and Broadway shows
Shopping