It might as well be called the MGM Gargantuan Hotel. Covering 33 acres — larger than some American towns —
the MGM is an emerald labyrinth of food, gaming, shows, sports, shops, pools, rides, lions and over 5000 rooms. Technically, the theme seems to be Hollywood's MGM movie studio, what with the lions pacing around outside a see-through walkway and a shopping mall designed to look like a sound stage. But honestly? The theme here is extra-large.
If there's one attraction that defines the MGM, it's the Grand Garden Arena, a 17,000-seat stadium where past events have included the infamous Holyfield vs. Tyson boxing/biting match that cost poor Evander a piece of his ear, and Barbra Streisand's Millennium concert. Studio 54, a remake of the legendary New York disco, is also inside the hotel but is nowhere near as decadent or chic as the 70s original.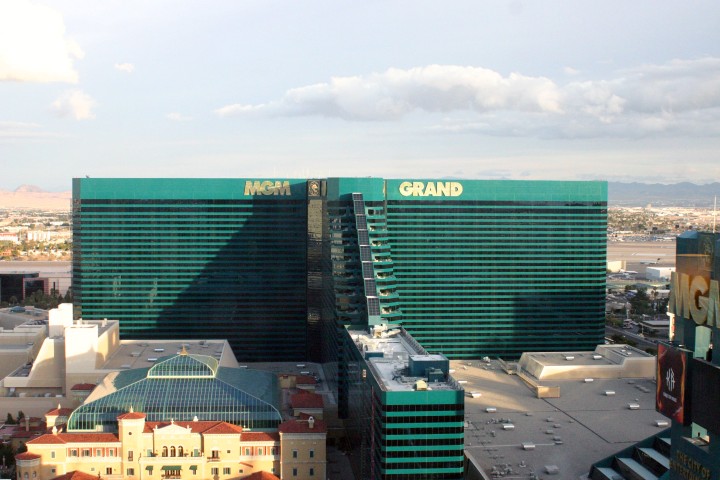 Rooms & Suites: 5034
Restaurants
The Hollywood Brown Derby: Modeled after Tinseltown's famous 1926 steakhouse
Coyote Café and Grill Room: Head out to the desert of the southwest
Dragon Court: Delectable Mandarin and Cantonese cuisine
Emeril Lagasse's New Orleans Fish House: Authentic Creole/Cajun delights from the Big Easy's celebrity chef
Gatsby's: Intimate restaurant serving classical cuisine with a Pacific Rim flair
La Scala: Modeled after Milan's famous opera house
Stage Deli Express: Walk-up service offering typical New York deli fare
Tre Visi: Savoury, traditional Italian dishes
Neyla Mediterranean Grill: Fusing Mediterranean specialities with American favourites
Wolfgang Puck Café: A signature favourite from the great Puck
MGM Grand Buffet: A nice, varied spread for big appetites
Ricardo's: Walk-up margarita bar and Old Mexico-style grub
Grand Wok and Sushi Bar: Chinese, Japanese, Thai, Korean, and Vietnamese
Attractions
Lion Habitat: View lions via a see-through walkway tunnel
EFX: Special effects musical starring Tommy Tune
Hollywood Theater: See big names in this 650-seat venue
Grand Garden Arena: Boxing, rodeos…Cher
Wheel of Fortune: Play a live version of this popular TV game show
Grand Adventures: Amusement park
Studio 54: For disco queens
Shopping
Studio Walk: 115,000 square feet of shops, shops, shops!