Ahh New York, New York, the city that never sleeps, the Big Apple.
Stand in front of New York, New York, Las Vegas, and see if you can identify not only landmarks like the Statue of Liberty (duh), Empire State Building, and the Brooklyn Bridge, but the AT&T building, the CBS building — things only a realNew Yorker (or real New York lover) would know. The hotel's attention to Manhattan details is pretty impressive.
Inside, it's a starry night in Central Park as you play blackjack under the trees, and check out the Strawberry Fields memorial to John Lennon. Other neighbourhoods and landmarks radiate out from here: Park Avenue, Wall Street, the West Village, Grand Central Station and Coney Island where you catch the Manhattan Express, an excellent roller coaster that zooms around the entire skyline.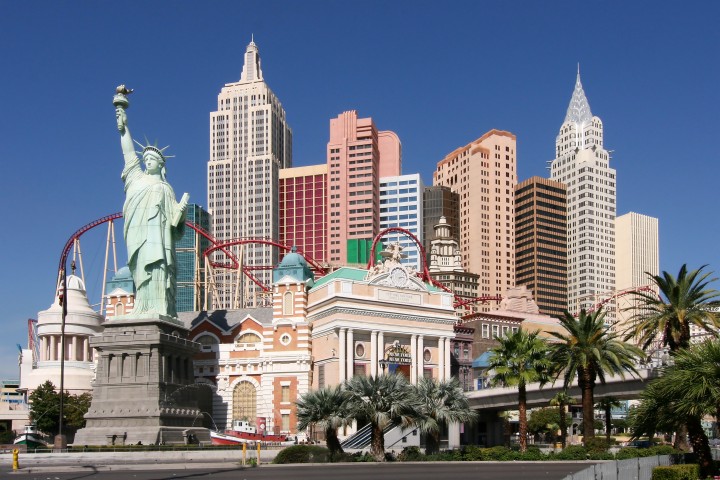 Despite the steaming manhole covers, Times Square is a bit of a disappointment: no 25¢ peep shows, no Port Authority Bus Terminal with homeless junkies living in cardboard boxes, no stink. But then again, the real Times Square — now anchored by corporate giants like Disney and Conde Nast — ain't what it used to be.
Be sure to stop at the Bar at Times Square for duelling pianos and a cocktail, followed by a visit to the Rockefeller Restroom — seriously!
Rooms & Suites: 2020
Restaurants & Bars
Gallagher's Steakhouse: Second home of the New York original established in 1927
Il Fornaio: Award-winning authentic Italian with original recipes
Chin Chin Café: Replica of the Chinatown original
America: Do the country coast-to-coast at this 24-hour hotspot
Motown Cafe: Culinary 'Temptations' and live down-home Detroit music
Gonzalez y Gonzalez: Lanterns and piñatas decorate the outdoor courtyard of this Mexican-style café with tequila bar
A variety of NY staples: Nathan's Famous Hotdogs, New York Pretzel, Village Eateries, The Empire Bar: Swing & Top 40, The Bar at Times Square
Rides & Attractions
Michael Flatley's 'Lord of the Dance': Spectacular Irish step-dancing
Manhattan Express: Coney Island-style, outdoor roller coaster
Coney Island Emporium: Old-fashioned American arcade
Shopping on 'Park Avenue'