The most legendary attraction on the Strip is the exploding volcano in front of The Mirage.
Every evening, at approximately 15-minute intervals, it starts smoking and soon giant flames are shooting a hundred feet in the air while fiery 'lava' flows down into the surrounding lagoon.
Next to the volcano is a Cadillac-sized bronze relief-sculpture of Siegfried & Roy, the other most legendary attraction on the Strip. For 12 years, Siegfried & Roy have been performing their illusionist show with the white tigers, and it's now a Vegas classic.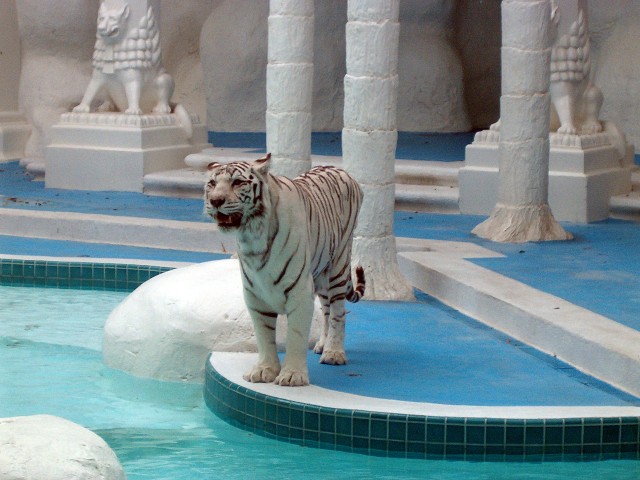 Although today it seems tiny compared to, say, the Venetian, when the Mirage opened in 1989, it was the biggest hotel in town — in size and ego. The first theme hotel, the Mirage is responsible for the Strip's 80s reincarnation as a family destination. The motif is Polynesian Tropical Rainforest. Top-shelf rooms come with their own swimming pools. The lobby décor features lots of teakwood and a spacious, humid atrium filled with waterfalls and 'banana trees, rare palms and tropical orchids', according to the brochure. However, if you stick out your nose to smell the flora, you'll realise that most of it is, in fact, plastic.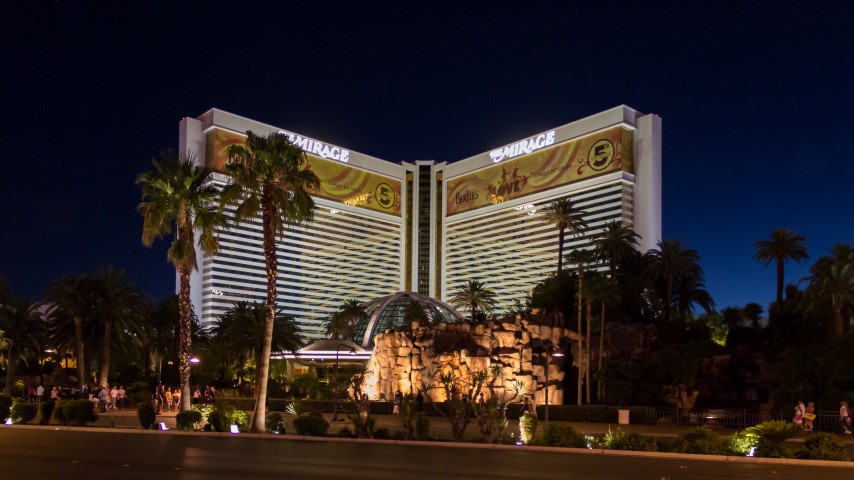 But the sharks in the 20,000-gallon aquarium are real, as are the white tigers, bottlenose dolphins and other exotic mammals on display in the Secret Garden. Heavy emphasis is placed on Siegfried & Roy's dedication to wildlife preservation and protection, though one suspects their motives aren't purely altruistic.
Rooms & Suites: 3044, plus 8 villa apartments and 6 bungalows with private pools
Restaurants
Kokomo's: Steak and seafood served amongst waterfalls and a sparkling lagoon
Mikado: 'Teppan yaki' style food in a Japanese-home setting with placid streams and exquisite murals
Moongate: Szechwan and Cantonese dishes in a classical Chinese setting
Onda: Homemade Italian with a New World flair
Renoir: Gaze at the masterworks of Pierre-Auguste Renoir while you enjoy the creations of a contemporary French master, Chef Alessandro Stratta
Samba Grill: Spirited Brazilian steakhouse
Caribe Café: 24-hour eclectic mix, with a Caribbean influence
Noodle Kitchen: Soup, braised noodles, BBQ rice dishes and congees
Mirage Buffet: The extensive choices are no mirage; the murals depicting the English gardens of Bermuda are
California Pizza Kitchen: Gourmet pizza from a wood-fired stove
Coconuts Ice Cream: Freshly made ice creams, sorbets, and frozen yogurts
Paradise Café: Quick bites within view of the pool
Attractions
The Dolphin Habitat: See Atlantic bottlenose dolphins
Tropical Rainforest: An indoor rainforest housed under a 100 foot high dome
The Royal White Tiger Habitat: This one is free
Siegfried & Roy
Shopping