A 50-storey replica of the Eiffel Tower straddles façades of the Opera House and the Louvre.
Hotel traffic circles the Arc de Triomphe and settles under a porte cocherereminiscent of the Gare de Lyon. An oversized Hotel de Ville towers behind it all. Rude waiters serve le petit dejeuner to loud, fat Americans at a sidewalk cafe. And in case you're still wondering where you are, the word 'Paris' is scrawled across an enormous faux hot air balloon. (Hey, just kidding about the rude part.).
Opened in 2000, Paris is the newest theme hotel. The lobby is goldleaf and crystal, very Palace Versailles, while the 85,000-square-foot casino is more Latin Quarter. The casino's ceiling is painted sky blue with clouds, to give the illusion that you are in Paris, outside, at dusk. Winding cobblestone paths lead you away from the casino onto Le Boulevard, a boutique shopping 'street' that's no Marais district, certainment.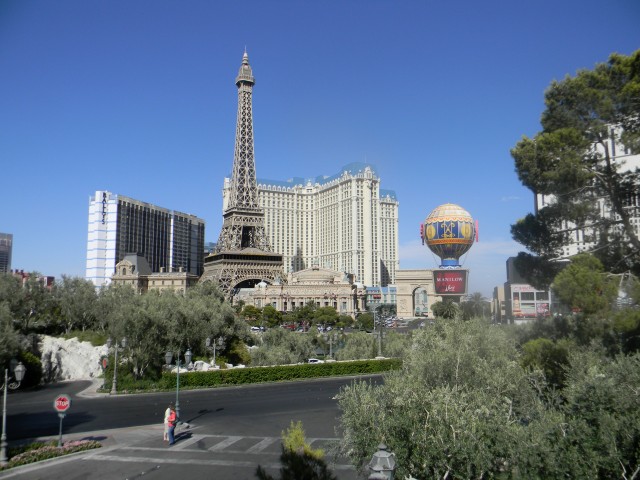 Although les grandesrooftop swimming pool/casinos are not found in Paris, the one atop this hotel is quite fun. At sunset, ride the glass elevators to the top of the Eiffel Tower for an amazing view of le désert.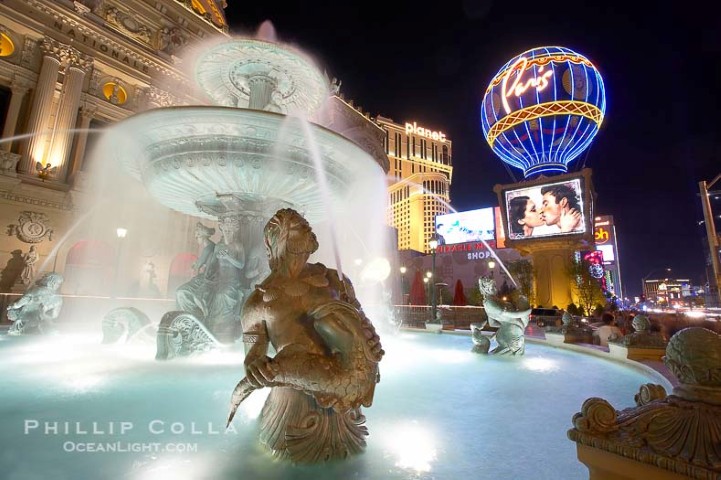 Rooms & Suites: 2916
Restaurants
Eiffel Tower: Elegant French cuisine in la Tour itself, 11-storeys above the Strip
La Rotisserie des Artistes: Two-level, slow-roast rotisserie
Mon Ami Gabi: Stylish café with outdoor seating on the Strip
La Chine: Upscale cuisine from Hong Kong in a fun and colourful setting
Tres Jazz: New World Caribbean cuisine, with live jazz in the evenings
Le Provençal: Italian dishes with a French flair
Le Village Buffet: Take a table in a mock town square or traditional country home in this theme restaurant with foods from five French provinces
Le Café Île St. Louis: Consummate French coffee-shop
Jean Jacques' Boulangerie: Sit in the middle of a working bakery
Du Parc: Seasonal café, adjacent to the hotel's roof-top swimming pool
Rides & Attractions
Glass elevator rides to the top of the Eiffel Tower
Le Cabaret Show Lounge: Torch songs in English and French
Paris Spa
Chapelle du Paradis and Chapelle du Jardin: If you want to tie the knot