Just behind Caesar's Palace and across the I-15 overpass you'll see the purple and red neon tower and the rainbow-coloured sign, Rio.
Inside, Mardi Gras rolls around every two hours when the free Masquerade Show in the Sky begins. Music goes up, beads start flowing and elaborate floats move through the air, suspended from the ceiling.
Five different-themed shows are performed throughout the day, including one with a 70s flower-power motif complete with go-go dancers in pastel Afros and hot pants singing 'Proud Mary'. For a few bucks, guests can ride along in a float and dance around in costume.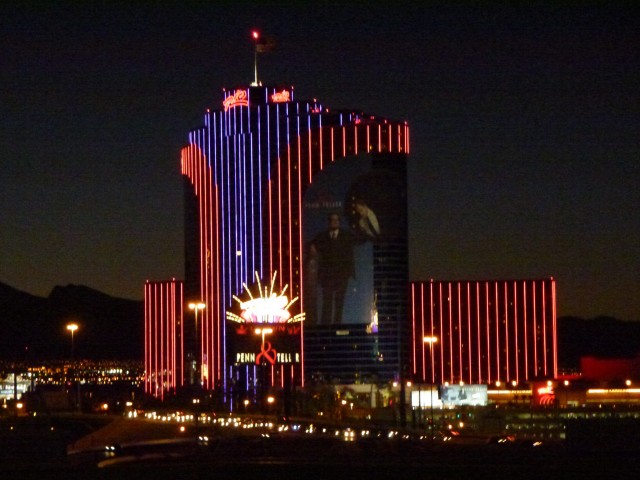 Another Rio must is to ride the glass lift up to the 51st floor to the groovy blacklit VooDoo Lounge, where you can drink speciality martinis on the outdoor deck while soaking up the view and the cover band's version of 'King of Pain'. On the weekends after 11 p.m., there's a mile-long line of young hipsters outside Club Rio, which features some of the hottest dance bands, especially salsa.
Rooms & Suites: More than 2500
Restaurants
VooDoo Café: The best of the Bayou, with a great view
Fortune's: Rio's newest restaurant, offering ancient recipes and rarities from the Orient
Napa Restaurant: Country French gourmet, with more than 600 wine selections
Antonio's: Gourmet Old-World Italian hotspot
Buzio's Seafood Restaurant: Oyster and seafood specialities with a bustling open-show kitchen
Fiore: Rotisserie grilled steaks, poultry and seafood
Bamboleo's: Good south-of-the-border grub
All American Bar & Grille: Nuff said
Mama Marie's Cuccini: Mama cooks up some fine Italian specialities
Mask: A taste of the Far East
Toscano's Deli: New York-style deli and bakery
Carnival World Buffet: All-you-can-eat, with nearly a dozen distinct culinary options
Village Seafood Buffet: All-you-can-eat fresh seafood
Sao Paolo Café: 24-hour continental dining
Star Deli and Bakery: Kosher style, with all the schmeers
Attractions
Masquerade Show in the Sky: Free float show
Chippendales The Show: For a girls' night out
Rio Secco Golf Club: Nearby 18-hole course caters to Rio guests
Rio Bamba: Lounge act with Earl Turner
3 wedding chapels to choose from
VooDoo Lounge
Club Rio
Shopping at Masquerade Village