At the far north end of the Strip (beyond the moribund Frontier, Stardust, Circus Circus, and a creepy zone of several boarded-up casino carcasses) the space-age Stratosphere Tower stretches 1149 feet into the sky.
Near the top, there's a terrific observation deck and a revolving restaurant called Top of the World. Another level up, you'll find two thrill rides, Big Shot and High Roller. Big Shot offers a fast 160-foot free-fall drop, while the High Roller coaster zips around the outside of the tower.
Fifteen hundred inexpensive guest rooms are located on the ground. The hotel tends to attract a more casual crowd: families with kids, busloads of senior citizens and out-of-town strippers working for the weekend at nearby Olympic Garden, Crazy Horse Too and Cheetah's.
The Stratosphere is the only modern theme hotel that still features old-fashioned entertainment like 'Viva Las Vegas': a little singing, a little dancing, a few jokes, a couple of drinks, some showgirls in giant feather head-dresses — all in the middle of the afternoon.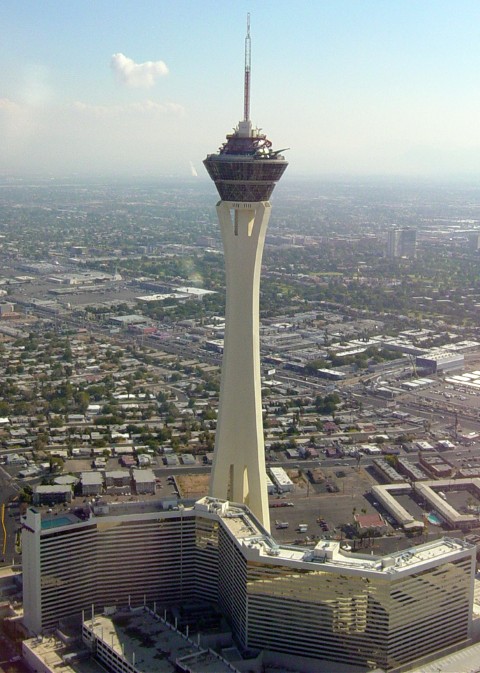 Rooms & Suites: 1500
Restaurants
Top of the World: Revolving restaurant 800 feet up, offering an eclectic selection of gourmet dishes
Stratosphere Buffet: The whole enchilada, and then some
Montana's Steakhouse: Seafood and steaks in a casual Western environment
Roxy's Diner: 1950s-style diner open 24 hours
Fellini's Tower of Pasta: Traditional Italian favourites and an extensive wine list
Attractions
Stratosphere Tower Observation Deck
Big Shot
High Roller
American Superstars: Evening musical revue featuring singing babes in black catsuits and other groovy outfits
Viva Las Vegas: Showgirls in the afternoon