On the gin-soaked ground where the swingin' Sands Hotel once stood, we now find the following: the Doges Palace, Campanile Tower, Ca' d'Oro, the Rialto Bridge, and the Clock Tower. Buongiorno, Venezia!
Yes, that's right folks, it's Venice, Italy, complete with singing gondoliers paddling the canals, masked Carnival characters and gilded frescos — all without that terrible sewage problem.
The Venetian prides itself on the fact that every room is a suite, complete with such standards as a stocked mini-bar and in-room fax machines. Bigga deala, say you. But these amenities are proof of a new Vegasian logic: If people are allowed to party in their rooms, they will still spend piles of money in the casinos.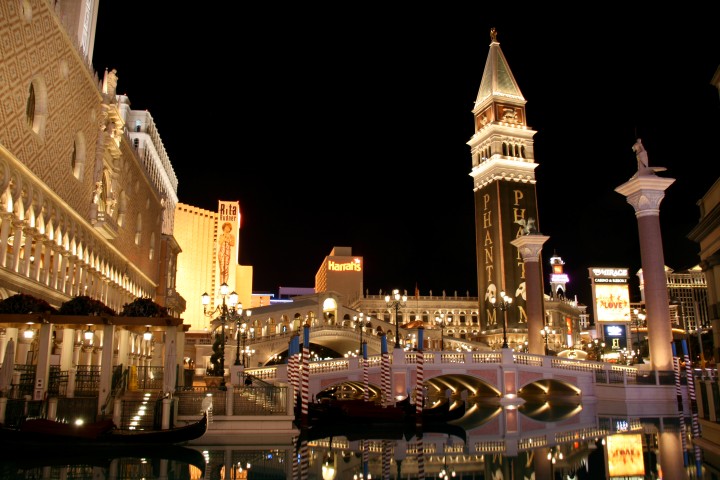 A major shift from the old days, where guests were always being forced to leave their rooms and walk through the casino to get anything beyond a bath towel. Currently, the Venetian is finished with Phase I construction. When it finishes II and III, it will have 6000 rooms, making it the largest hotel in the world.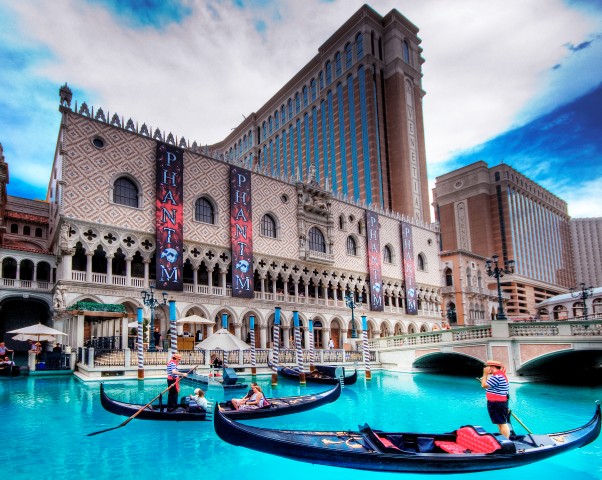 Once you've had your stroll across the Bridge of Sighs, take escalators to the second level through the casino to the Grand Canal Shoppes. Under a virtual blue sky, you can browse more shops at St. Mark's Square, ride a gondola on the Grand Canal or mangia at any of the many restaurants.
Rooms & Suites: 3036, soon to have more than 6000
Restaurants
Postrio: Another masterpiece from Wolfgang Puck
Lutece: Artful and traditional French cooking based on the New York institution
Star Canyon: Nationally renowned 'new Texas' cuisine
Taqueria Canonita: Authentic Mexican food cooked on an open-flame grill in a bustling exhibition kitchen
Pinot Brasserie: Modeled after the famed Los Angeles eatery
Grand Lux Café: 24-hour casual dining by the wildly popular Cheesecake Factory
Delmonica Steakhouse: New Orleans-style steakhouse by world-renowned chef Emeril Lagasse
Canaletto: A new concept by Il Fornaio's Larry Mindel, featuring Maurizzo Mazzon, famed chef from Italy
Royal Star: California Chinese from master Hong Kong chefs
Valentino: Lauded by some as the best Italian restaurant in the nation
Zeffirino: Fresh Italian-style seafood
Attractions
Guggenheim Las Vegas museum
Venus Lounge: Classic Vegas glamour and Rat Pack style in this new bar/club
SpaClub by Canyon Ranch: Run by America's renowned spa proprietors
Madame Tussaud's: London's famous wax museum with lots of new celebrities
Free, live performances by classic Venetian characters and strolling musicians
Shopping
Lots of boutiques and national retailers