Several times a night, a vulgar throng of humanity gathers on a foggy,
wooden dock in front of Treasure Island to witness what is the greatest bit of theatre on the boulevard:a life-size pirate ship battle between the Hispaniola and Britain's HMS Britannia.
Although the hotel's interior is surprisingly modern and completely unlike a pirate village, its façade is a ramshackle Caribbean village called Buccaneer Bay, where all the swashbuckling takes place. The battle involves some brilliant pyrotechnics and one of the ships actually sinks. The best view is from the Battle Bar, accessed from inside the hotel, but you'd be dead lucky to get a seat.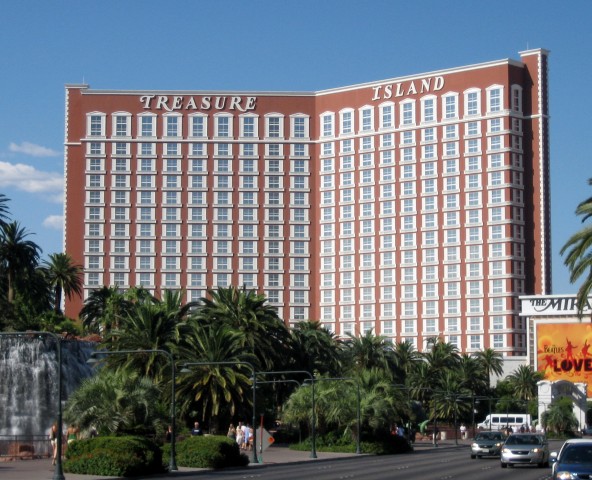 The other theatrical extravaganza at Treasure Island is Cirque du Soleil's 'Mystére', a surreal circus of contortionists, acrobats and clowns. Or perhaps you want to create your own theatre, and get married on the HMS Britannia. The Crown Jewel packages get you a ceremony performed by a British Captain. Or at least somebody who looks like one.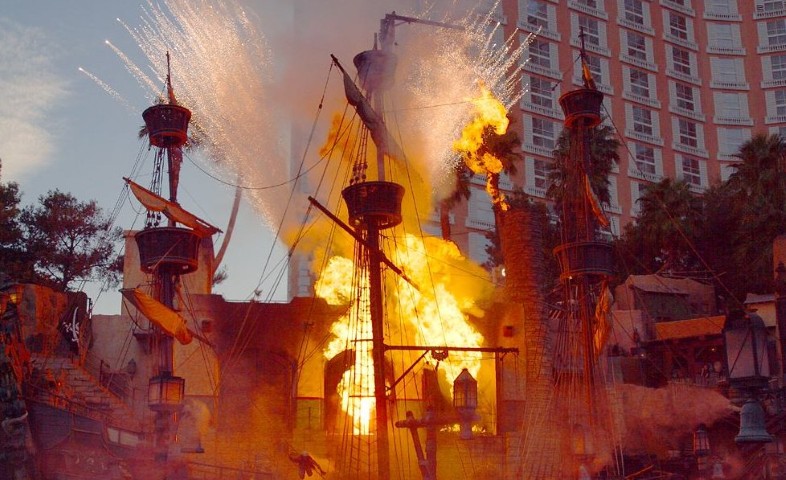 Rooms & Suites: 2885
Restaurants
The Buccaneer Bay Club: Cornish game hen, sautéed Chilean Sea Bass and Shrimp Scampi Sauté from this exclusive second-level vantage point
The Plank: 'Arrrr, ye scalleywag!' Mesquite grilled seafood and steaks in a seafaring atmosphere
Madame Ching's: Old-World Chinese honouring the great female pirate
Francesco's: Open-kitchen Italian specialities and Mediterranean-style seafood
Black Spot Grill: Casual Italian bistro with a sidewalk café
Treasure Island Buffet: The full booty
The Lookout Café: Casual 24-hour café overlooking the casino
Starbucks: Mega-chain offering roasted coffees, specialty drinks and pastries
Ben & Jerry's World Famous Ice Cream: Quite simply the greatest iced milk in the world
Attractions
Outdoor Pirate Battle
Cirque du Soleil's 'Mystere'
Shadow Creek golf course
Shopping