Few destinations can match the vitality that has grown to pervade Spain's capital since the 1980s.
Once dwarfed by world-class cities such as Rome, Paris and London, Madrid took its cue from the death in 1975 of Francisco Franco, Spain's repressive dictator, to begin cultivating one of the most culturally vibrant, round-the-clock cities on earth. Today, it lays claim to a one-of-a-kind energy that infuses its world-renowned artwork, bustling public plazas, colourful cuisine and endless nightlife. Pair that with the Madrileños — the city's welcoming, unpretentious locals — and Madrid is firmly planted on the A-list of European destinations.
If you're an art buff, Madrid will leave you thoroughly spent. A visit to its three museums on 'The Avenue of Art' turns up countless famous works by notable masters. Among more than 7000 paintings housed in the Museo del Prado are pieces by Velazquez, El Greco, Titian, Rubens and Bosch. At the Museo Nacional Centro de Arte Reina Sofia, you'll find modern masters such as Dali, Miro and Picasso, including his iconic masterpiece, Guernica. And the Museo de la Coleccion Thyssen-Bornemisza holds works by Rembrandt, Caravaggio and Goya to round out Madrid's dizzying art collection.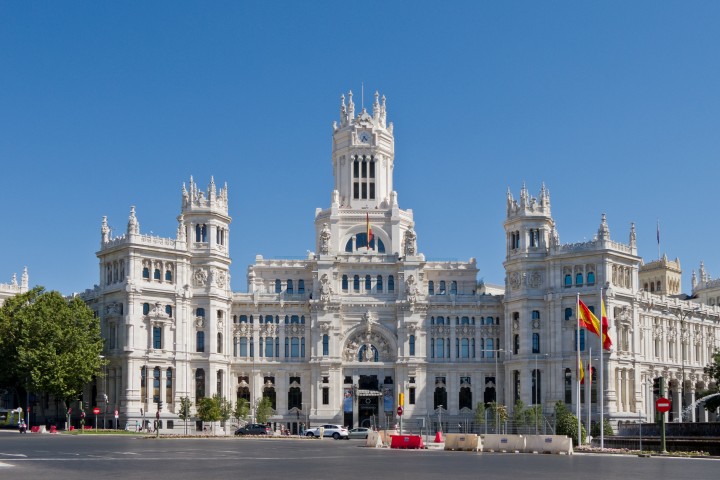 A maze of 17th and 18th Century narrow streets and picturesque plazas radiate from the rambling Puerta del Sol, the heart of Old Madrid. In warm months, Plaza Mayor buzzes with hundreds of locals and tourists conversing over a café con leche or vino tinto at the outdoor cafes that line the cobblestoned square, surrounded by historic structures such as the fresco-adorned Casa de la Panaderia. Within walking distance are several treasures — old churches, monasteries and palaces, including the opulent Palacio Real. Along the way, shoppers can pop into antique shops, boutiques, art galleries and designer shops, many concentrated on Calle Serrano. On Sundays, Madrid's sprawling El
Rastro flea market brims with every imaginable commodity and oddity. After vying for bargains, the city's largest park, Parque del Retiro, is a welcome respite for a relaxing stroll, with street performers providing the entertainment.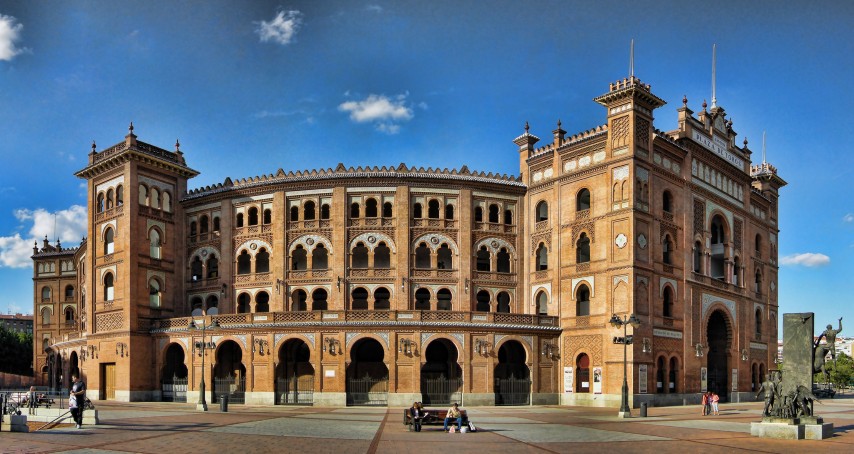 Visitors will quickly discover that Madrid's cuisine is one of the star attractions. The city boasts a staggering number of fine restaurants specialising in dishes from every province of the country. For a quintessential Spanish experience, nibbling on tapas (Spanish bar snacks) while sipping a cold beer, Rioja wine or Jerez sherry can't be beat. The innumerable tascas (tapas bars) that dot the streets of Madrid hum with patrons spearing bite-size Spanish specialities: gambas al ajillo (shrimp with garlic), tortilla de patata, (potato frittata), and pimientos del pequillo (stuffed peppers). Lunch, the main meal of the day, is a late-afternoon event reserved for dishes such as Madrid's signature Cocido Madrileño, a heavy stew of blood sausage, chicken, ham, vegetables and chick peas. Madrileños typically take in a light late-night dinner, which is just as well if you're planning to sample the after-midnight entertainment.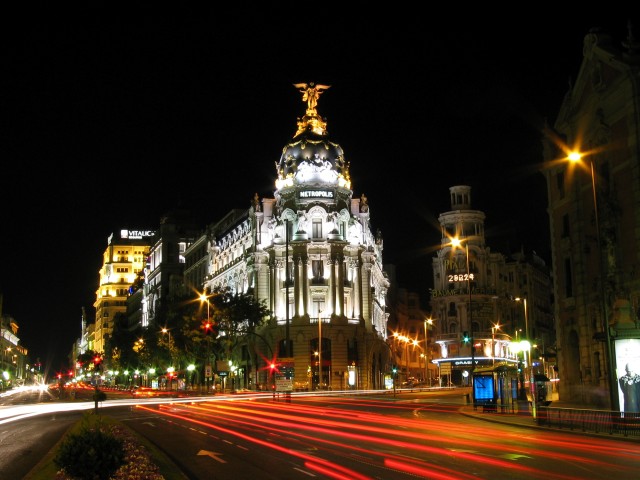 In Madrid there is no shortage of bars, both traditional and trendy, or clubs pumping out the hottest dance music. The Cuba Libres are tall and stiff, the energy is frenetic, and the traffic can be bumper-to-bumper at 4 a.m. Capture an authentic slice of Spanish culture at one of the many flamenco taverns that pulsate until the wee hours with the clap of hands, the stomp of heels and the deep songs of tragedy and hope.
There are plenty of other diversions in store after some shut-eye — a bullfight in the Plaza de Toros? An opera at the grand Teatro Real? Rest assured, there's never a dull moment in Madrid.