The Costa Blanca, or 'White Coast', stretches south from the town of Valencia to Almeria on the eastern Mediterranean coast.
It boasts daily blue skies, superb clean beaches (most sporting the Blue Flag of Excellence) and fertile river valleys, as well as copious lush groves of almonds, olives, oranges, and most importantly, the sweet muscatel grape! Unsurprisingly, the Costa Blanca has become a hugely popular holiday destination over the years, and summers can get extremely crowded — although with a little effort, you can escape from the crowds if you need to.
Benidorm has long been the major holiday-maker magnet here, resulting in numerous hotel high-rises designed to cope with the hordes of sun'n'fun seekers. The threat of homesickness is well catered for in the scores of English 'pubs' and all-day fry-ups to be found. Nevertheless, the old centre of town just about manages to retain its traditional Spanish charm: the blue-domed church harks back to a fishing-village past, and even the flesh-smothered beach, the Playa de la Levante, is a decent spot to relax and soak up the sun (rumour has it that the beach even enjoys a regular 'top up' with imported sand).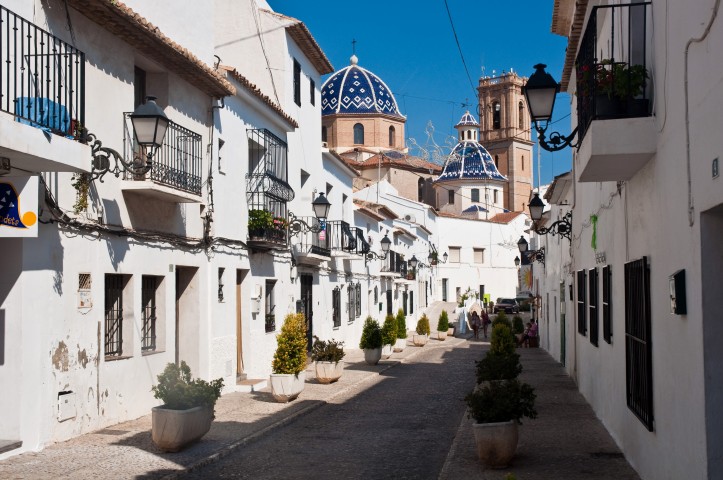 This buzzing resort also sweeps the board where after-dark activities are concerned, offering a variety of entertainments, including a Vegas-style 'Palace Show', karaoke bars, rock bands, discos, 'Medieval Tournaments', and even an out-of-town casino for those feeling up (or down) on their luck. There's something for everyone. Just remember to pack your glad rags (everyone loves to dress up) and be prepared for a late night.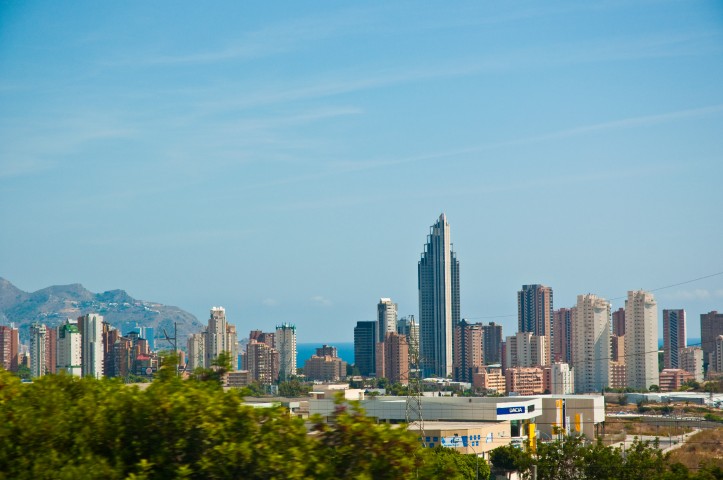 Travelling south, Alicante is the next major stop, and the second-largest city in this province. Despite its popularity with Europeans, it still oozes the taste of the Med, and the generous esplanades (promenades) and seafront paseos (walks) are perfect for relaxing away the siesta hours (as is tucking into an oversized paella). You won't be able to miss the rambling 16th Century Castillo de Santa Barbara fortress looming behind the town beach — take a lift up to the top for an impressive view — but the best beaches are actually outside of town: San Juan de Alicante (six kilometres north) is one of the best, and nudists can let it all hang out a little further along the coast at Playa Agua Amarga.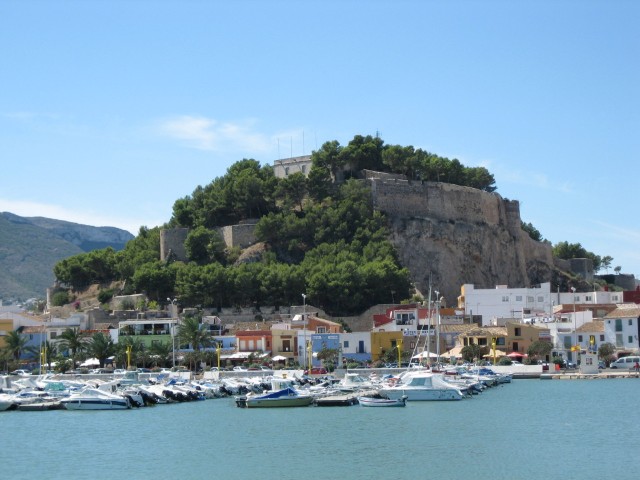 You won't find just buckets and spades here either. Between April and November, boats leave Alicante to the island of Tabarca, which was once a convenient pit stop for pirates — don't miss out on Arroz Negro, a local rice dish made with squid ink. Or head 50 kilometres southwest of Alicante, inland to the sleepy town of Orihuela. Here, the aristocratic legacy of 'Los Reyes Catolicos' (the Catholic Kings) is well worth a day's exploring, as are the unique Catalan Gothic churches, the Cathedral, the museum, the Baroque Colegio de Santo Domingo, and (a little way outside of town) Spain's second-largest palm forest.

Valencia offers another great excursion for the more ambitious. Spain's third-largest city (after Barcelona and Madrid), it boasts many fascinating monuments, a stunning nature park and a famously energetic nightlife. Prepare for plenty of high-octane antics too — the locals love their pyrotechnics. Valencia's most famous fiesta, Las Fallas, culminates in a mega bonfire and some serious noise in mid-March.
Nature lovers can also be indulged along this stretch of coast. Above Benidorm, the Sierra Helada mountain range offers plenty of hiking trails for all levels of fitness, taking you through some beautiful terrain and rewarding walkers with breathtaking views.
Continue to read – The Sun, Sea & Sand of Spain: 
The Sun, Sea & Sand of Spain – Travel Guide
The Costa Blanca – The Sun, Sea & Sand of Spain
The Costa Daurada – The Sun, Sea & Sand of Spain
The Costa del Sol – The Sun, Sea & Sand of Spain
Ibiza – The Sun, Sea & Sand of Spain
Majorca – The Sun, Sea & Sand of Spain