Dissing Venetian food as over-priced and mediocre (at best) is very fashionable…but very unfair.
Some of northern Italy's tastiest fish dishes, including unique, exotically seasoned traditional preparations harking back to Venice's Medieval days as Europe's leading spice port, can be found in this sea-surrounded city. But one must wander off the well-trodden San Marco/Rialto tourist track to sample such culinary delights.
Originally a neighbourhood wine bar, Osteria da Fiore is now one of the hottest restaurants in Italy, not just Venice, thanks to rave reviews and international word of mouth. Chef Mara Martins's simple, subtle, superb cooking still speaks for itself, with such offerings as sweet schie (tiny lagoon shrimp), greaselessly fried to nutty crispness and served with creamy polenta; equally exquisite moleche (softshell crabs); pillow-light, seafood-stuffed pastas; risotto with scampi and silky fresh porcini mushrooms (an autumn speciality); and to finish, Venice's best and most buttery home-made pastries. Reserve at least several weeks in advance — seating in the new porch section is the most atmospheric.
At Castello hideaway Corte Sconta(unmarked except for a small, stylised hanging fish sign), dining dominatrixes Rita and Lucia inform diners which of chef Claudio's fresh fish specialities they will have — and few are foolish or brave enough to resist. The multi-course house appetiser is a comprehensive sampling of Venice's Greatest Hits — including sarde in saor (bay-scented sweet/sour marinated sardines with sautéed onions and pine nuts), granceola (delicate local spider crab), and a staggering assortment of crustaceans and molluscs, many unique to Venice's lagoon — and is a meal in itself. But most diners proceed immediately to an assaggi(assortment) of the night's several seafood pastas. And, if available, savoury grilled canocchie (a large local scampi-like shellfish) is not to be missed. Definitely try un litro or two of the outstanding slightly sparkling houseprosecco. The best tables, weather permitting, are those in and around the 'hidden courtyard' of the restaurant's name.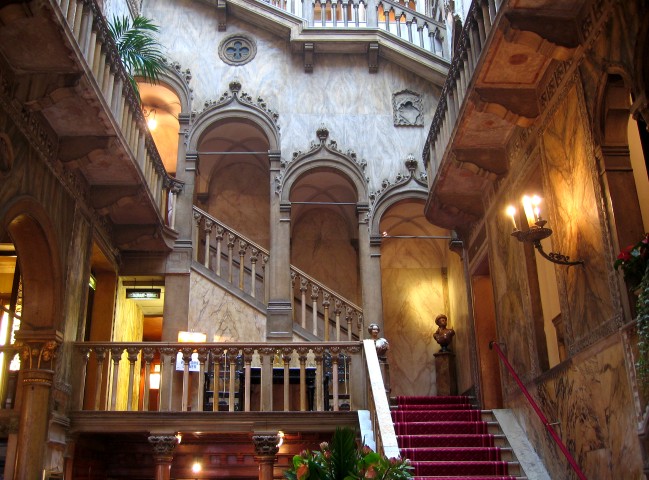 Venice's signature specialities, fegato alla veneziana (thin-sliced liver with onions) andpasta alla vongole (with tiny 'true clams') are available everywhere — so why not try them at a couple of restaurants favoured by cucina diva Marcella Hazan? An unfailingly tender, savoury version of the former dish is served at the confusingly named Fiaschetteria Toscana, where specialities are neither Tuscan nor mainly fish. For the latter dish, reserve (definitely) at tiny, trendyRistorante Riviera. With outside tables on the banks of the wide Giudecca canal, and a chef/owner formerly of Harry's Bar, this dining discovery is one of the few Venetian restaurants Hazan recommends for home-made pasta.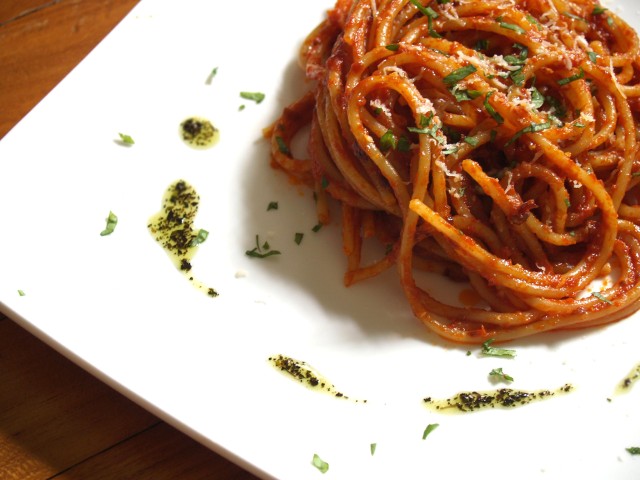 For a light lunch, do as the locals do and enjoy an ombra(literally 'shade', Venetian slang for a glass of wine; refers to ducking out of the sun for a plonk break) with panini tramezzini (triangular half-sandwiches), or cichetti (finger food) in a wine bar, instead of breaking up your sightseeing with a sit-down meal. Osterias particularly favoured by foodie insiders include no-frills but perennially packed Minibar da Lele, whose eponymous owner spends most weekends searching rural areas around Venice for hand-made artisan salamis, cheeses, and wines; Osteria Al Ponte, also known as Alla Patatina for its famous French fries on a spit — though the batter-coated courgette flowers and other delicately fried veggies are even better; ancient Ai Do Mori, which features almost two dozen high-quality wines by the glass, plus tasty traditional cichetti; and congenial old canal-side Cantinone-Vini Al Bottegon/Già Schiavi, source of Venice's most dreamy, creamy-light, house-made baccalà mantecato (salt cod whipped with olive oil).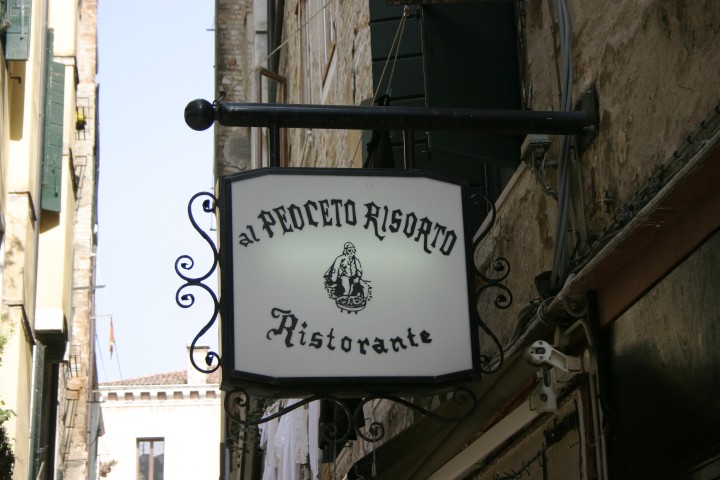 Venue Information
Osteria da Fiore: San Polo 2202, Calle del Scaleter, near campo San Polo; 0039-041-721308, fax 0039-041-721343; closed Sunday and Monday.
Corte Sconta: Castello 3886, Calle del Pestrin; 0039-041-5227024, fax 0039-041-5227513; closed Sunday and Monday.
Fiaschetteria Toscana: Cannareggio 5719, s. Giovanni Grisostomo; 0039-041-5285281, tel and fax.
Ristorante Riviera: Dorsoduro 1473, Fondamenta delle Zattere Ponte Lungo; 0039-041-5227621.
Minibar da Lele: Santa Croce 183, Campo dei Tolentini; no telephone.
Osteria Al Ponte: San Polo 2742, near Ponte San Polo; 0039-041-5237238.
Ai Do Mori: San Polo 429, Calle dei Do Mori; 0039-041-5225401.
Cantinone-Vini Al Bottegon/Già Schiavi: Dorsoduro 992, Fondamenta Maravegie; 0039-041-5230034.
Continue to read:
The Watery Wonderland of Venice – City Guide
The Watery Wonderland of Venice – Venice Nights
The Watery Wonderland of Venice – Venice Bites