In Portugal, long straight beaches are foamed by brisk Atlantic rollers, sheltered river inlets and coves abound around Lisbon, and the south-facing Algarve has golden sands divided by russet sea-sculpted rocks and cliffs.
It's no surprise that fresh seafood is plentiful here. A perfect lunch can be had in a simple thatched beach restaurant serving juicy charcoal-grilled sardines, accompanied by newly baked round rolls, a crisp salad and chilled white wine.
Or take a ferry across Lisbon's wide Tagus River to Cacilhas and eat at one of the specialist sole restaurants there offering spectacular views of Lisbon's skyline of undulating hills. Portugal's national dish is bacalhau (dried cod) cooked in hundreds of ways and especially delicious served with creamy sauces, potatoes and eggs, or as pasteis de bacalhau (deep-fried puffs).
The best place to sample traditional fare is in a pousada (a state-run inn in a historic building), the most stunning of which may be the Sao Felipe castle 300 metres above Setubal, south of Lisbon. Here you can dine at tables set on 16th-Century rampart stones under bleached umbrellas while the wide blue estuary of the Sado glitters below. Or choose among the many little tascas (small eateries with stand-up bars), where the bill is written on paper tablecloths and wine comes in generous jugs. Ideal tasca sightseeing fuel is a steak with an egg on top, cooked and served in a little earthenware dish. In the Algarve, the counterpart is pork steamed with onions, clams and white wine in a metal container called a cataplana.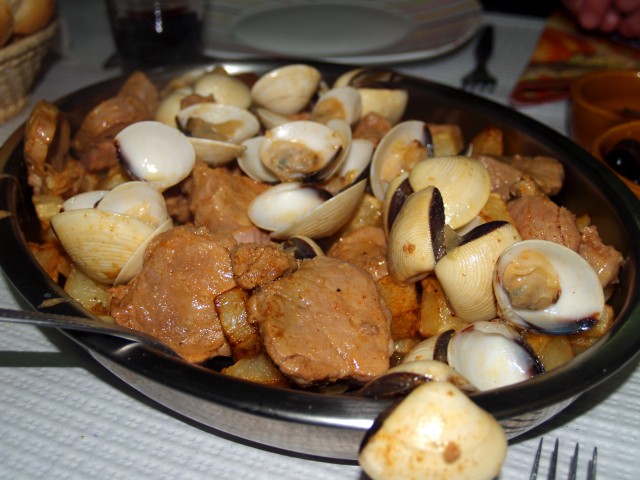 Chicken is abundant in Portugal, no surprise for a country claiming the cockerel as its national emblem. Specialist roast chicken restaurants are common around Oporto where frango ma pucara (chicken casseroled with mustard, brandy and port) is a much loved dish. Or stop at a little roadside restaurant in the Algarve's Monchique, where the forested hills still contain singing nightingales, and sample piri piri (chicken roasted with an olive-oil-infused chilli sauce).
The Douro hills in the north produce the world's sweetest wine — port — from vines that force their roots down through 40 feet of granite. This harsh terrain with deep river-cut gorges has changed little over the centuries, and its hearty food (such as caldo verde, a hearty soup of potato, sausage and shredded cabbage) sustains those who toil on the vertigo-inducing vineyard terraces.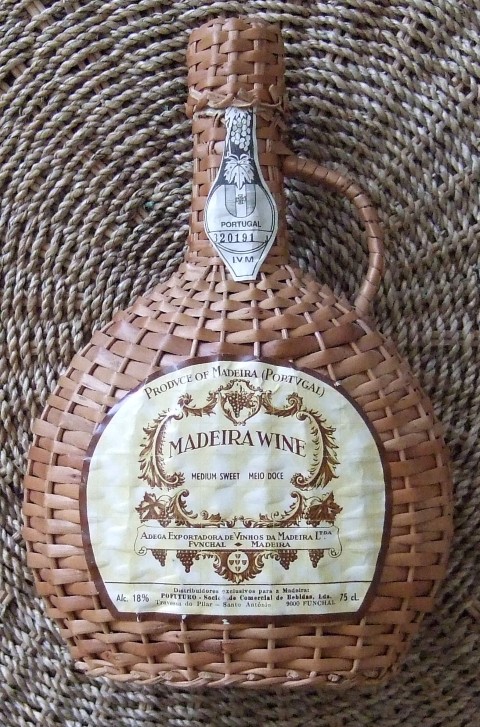 There is really only one dessert in Portugal — pudim flan — known as '365' for all the days of the year on which it is served. These rich egg-custards originated in convents and now bear irreverent names like Nun's Tummies or Angel's Breasts. Most meals end with an orange peeled and arranged like a flower; the more beautiful the lady dining, the more exquisite the arrangement.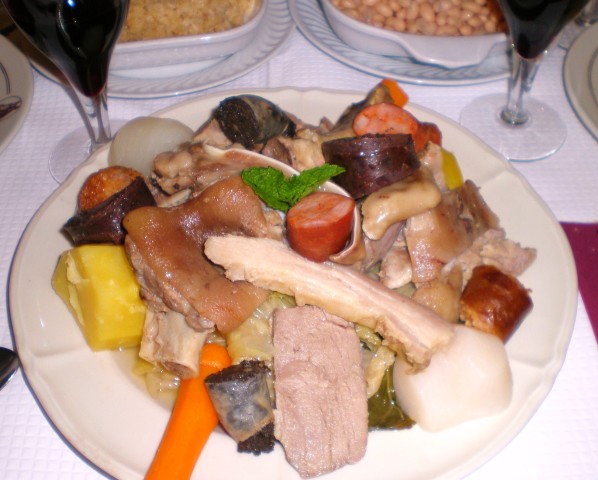 Saude…
Portugal's favourite aperitif is a chilled white port served with almonds to nibble. Around Lisbon, try moscatel de Setubal, a sweet white wine favoured by Louis XIV. With summer meals, especially fish, try vinho verde the 'green wine' from the Minho valley. Look for labels like Gambas, Aveleda and Casal Garcia. Reds marrying well with meats are Colares, Dao (white as well — Grao Vasco is a good brand), Vila Real, Lagoa (in the Algarve) and Periquita. After-dinner choices include ports, Madeiras, the Algarve's ginja (a yellow cherry liqueur), and brandies, including aguardente (a fiery marc often used to flambé appetiser sausages).
Continue to read – Food & Wine Holidays in Europe:
Food & Wine Holidays in Europe
Italy – Food & Wine Holidays in Europe
France – Food & Wine Holidays in Europe
Portugal – Food & Wine Holidays in Europe
Spain – Food & Wine Holidays in Europe
Greece and Cyprus – Food & Wine Holidays in Europe